All hands on deck': protesters to target healthcare bill at rallies across US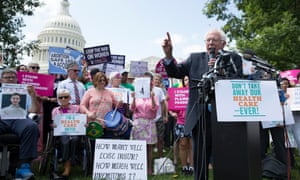 Bernie Sanders speaks at a rally calling on the Senate to defeat the Cassidy-Graham bill this week. Hundreds plan to attend similar events. Photograph: Michael Reynolds/EPA
Hundreds prepare to gather in Washington and at dozens of other sites in coming days even as John McCain's opposition threatens bill's survival
Activist groups praised John McCain for his promise to vote no on the Lindsey Graham-Bill Cassidy healthcare bill on Friday, but they warned against complacency as they said the fight to protect the Affordable Care Act was "not over".
McCain's pledge, which means Republicans can only afford to lose one more Senate vote in their quest to repeal the ACA, widely known as Obamacare, was met with celebration on the left.
But the
Indivisible activist group urged progressives
to continue with their frantic phone banking efforts and protests against the Graham-Cassidy bill.
Hundreds of people are planning to travel to Washington DC on Monday to protest against the legislation, which would dismantle the ACA and potentially strip millions of Americans of their healthcare.