Oxford University worker and US professor plead not guilty to murder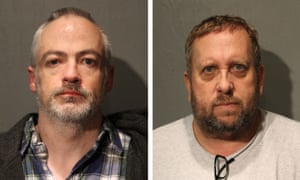 إضافة تسمية توضيحية


Wyndham Lathem, left, and Andrew Warren, right, have been charged with the murder of Trenton Cornell-Duranleau. Photograph: AP
Andrew Warren and Wyndham Lathem are accused of 'exceptionally brutal' stabbing of Trenton Cornell-Duranleau in Chicago
A former Northwestern University professor and an Oxford University employee have pleaded not guilty to first-degree murder charges in the stabbing death of the professor's boyfriend.
Wyndham Lathem, 46, and Andrew Warren, 56, stood quietly in separate
Chicago
court hearings on Thursday as their attorneys entered pleas on their behalf. Both men spoke little during the hearings, only briefly answering when Cook county judge Ursula Walowski asked if they understood the charges.
Unlike a previous court hearing, when prosecutors gave chilling details of the death of 26-year-old Trenton Cornell-Duranleau, Walowski simply laid out the charges. However, she referred to the crime as "exceptionally brutal" and said it was carried out in a "calculated and premeditated manner".
The men are accused of attacking Cornell-Duranleau on 27 July while he slept in Lathem's Chicago apartment, stabbing him dozens of times. Prosecutors are seeking a sentence of 20 years to life in state prison, Walowski said.
Oxford University worker and US professor plead not guilty to murder: https://www.theguardian.com/us-news/2017/sep/29/oxford-university-worker-professor-plead-not-guilty