A week after Mike Pence walks out on 49ers protest, players kneel again
A week after Mike Pence walks out on 49ers protest, players kneel again
US news | The Guardian / Tom Lutz in New York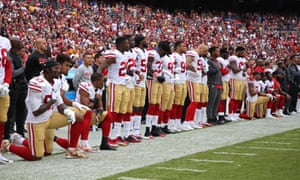 Seven players refuse to stand for anthem at San Francisco v Washington
Eric Reid says vice president's exit from game was a PR stunt
A week after the US vice president, Mike Pence, left an NFL game when San Francisco players knelt during the national anthem members of the team chose to continue their protest.
Seven 49ers knelt before the game against Washington on Sunday, down from the 20 who took a knee before last week's contest in Indianapolis. Pence was following the orders of Donald Trump, who has been infuriated by NFL players kneeling during the anthem as a protest at racial injustice in the US. "I asked @VP Pence to leave stadium if any players kneeled, disrespecting our country," Trump wrote on Twitter last Sunday. "I am proud of him and @SecondLady Karen."
The 49ers have been central to the protest movement in the NFL. Colin Kaepernick, who has since left the team, started the protests last season and 49ers safety Eric Reid was the first man to join him. Reid knelt again on Sunday. Last week he said Pence's walkout was a "PR stunt".
"He knew our team has had the most players protest," Reid said. "He knew that we were probably going to do it again. This is what systemic oppression looks like. A man with power comes to the game, tweets a couple things out and leaves the game in an attempt to thwart our efforts. Based on the information I have, that's the assumption I made."
Last week the NFL commissioner, Roger Goodell, said players should stand for the anthem as it emerged that the protest movement was affecting the popularity of the country's richest league among large sections of its fanbase. Surveys have found the majority of white fans are opposed to the protests, while most black fans support them. "Like many of our fans, we believe that everyone should stand for the national anthem," the commissioner wrote in a letter. "It is an important moment in our game. We want to honor our flag and our country, and our fans expect that of us."
Goodell later insisted that players would not be forced to stand but the league's specific stance on the protests is still not clear.