Australian Simmons scores history-making triple-double in fourth game
Australian Simmons scores history-making triple-double in fourth game
US news | The Guardian / Australian Associated press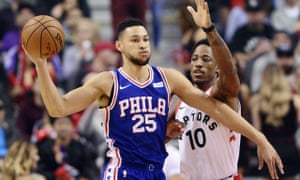 Simmons is the only Australian to achieve a triple-double in the NBA
Only Robertson and Williams achieved triple-doubles in first four games
Ben Simmons – the 21-year-old from Melbourne – has led the Philadelphia 76ers to their first regular season win with a triple-double in just his fourth game. The feat places him alongside basketball greats Oscar Robertson and Charles Barkley in the NBA history books.
Simmons is the first Australian to have a triple-double in the NBA, while only Robertson and Art "Hambone" Williams have achieved triple-doubles in their first four games. LeBron James, by comparison, took until mid-way through his second NBA season to achieve his first triple-double.
Simmons was superb in the win against the Detroit Pistons, with 21 points, 12 rebounds and 10 assists in the 97-86 win.
The Australian shrugged off the personal accolades and focused on his team's maiden win. "It feels great that we won," Simmons said. "Our team played well together and we played the right way. I'm just happy we got our first one."
Simmons also became the first player to achieve the feat in Detroit's new Little Caesars Arena and became the first 76ers rookie since Michael Carter-Williams to post a triple-double.

He is now also the first 76ers player since Barkley in 1987 to shoot more than 70 per cent from the field in a triple-double with eight of his 11 shots successful.
The 76ers, despite high expectations, opened the NBA regular season with losses in their first three games. Simmons and centre Joel Embiid, with 30 points and nine rebounds, were too strong for a Pistons squad that falls to a two-win, two-loss season record.