Bannon indicates Trump's ACA strategy: 'Blow that thing up'
Bannon indicates Trump's ACA strategy: 'Blow that thing up'
US news | The Guardian / Martin Pengelly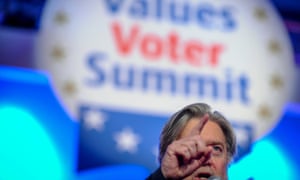 Senator Susan Collins calls moves 'disruptive' to 'vulnerable people'
A day after Steve Bannon seemed to confirm Donald Trump's intent to deliberately destroy the Affordable Care Act (ACA), saying the president was "gonna blow that thing up", a Republican senator who helped dynamite two Republican healthcare bills said Trump was hurting American citizens.
Bannon, a former senior White House strategist who remains close to the president, spoke at a conservative event in Washington on Saturday. His appearance came at the end of a week in which Trump signed an executive order to allow the sale of cheaper insurance under the ACA and ended federal subsidies designed to help poorer Americans afford health coverage.
"Then you had Obamacare," Bannon told an audience at the Values Voter Summit, as he listed Trump's recent achievements. "Not gonna make the CSR [cost-sharing reduction] payments, gonna blow that thing up, gonna blow those [insurance] exchanges up, right?"
Earlier, Trump had responded to widespread opposition to his moves by claiming they were positive, tweeting: "Millions of people benefit!" He also called the cost-sharing subsidies a "Dems windfall" to insurance companies.
Susan Collins of Maine, who joined with others to defeat two attempts to repeal and replace the ACA, Barack Obama's signature legislative achievement popularly known as Obamacare, was interviewed on CNN's State of the Union on Sunday.
"What the president is doing is affecting the ability of vulnerable people to receive healthcare right now," she said.
Asked if Trump's actions would hurt ordinary American citizens, she said: "They are very disruptive moves … I do believe that."
Collins said the subsidies were "not a bailout of the insurance [companies]. What this money is used for is to help low-income people afford their deductibles and their copays, so that healthcare is available to them.
"What the president has also done is take steps to cut off funding to reach people who are eligible for subsidies under the ACA.

"So these certainly are very disruptive moves that will result in smaller numbers of people being insured, that will make it more difficult for low-income people to afford their out-of-pocket costs, and that will destabilise the insurance markets."
An Associated Press analysis released on Saturday showed that nearly 70% of those who benefit from cost-sharing subsidies live in states Trump won last November. One Floridian interviewed by the AP said Trump's cut would be "a death sentence" for some.