#Chicago Bulls ban Bobby Portis for punch that put team-mate in hospital
Chicago Bulls ban Bobby Portis for punch that put team-mate in hospital
US news | The Guardian / Associated Press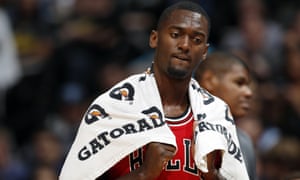 Nikola Mirotic suffered concussion and broken bones during fight
Portis will miss first eight games of season after team suspension
The Chicago Bulls have suspended forward Bobby Portis for the first eight games of their season for injuring team-mate Nikola Mirotic during a fight at practice.
"Both players owned responsibility in the incident itself," said John Paxson, the Bulls' president of basketball operations. "But only one player threw a punch. And that punch connected and for us that is inexcusable. It's not who we are. It disappoints us in terms of what happened and because of that we've determined that we're going to suspend Bobby for eight games."
Mirotic suffered multiple broken bones in his face as well as a concussion on Tuesday. He will likely need surgery and is out indefinitely. Portis was a first-round pick in 2015, and has averaged 6.9 points and five rebounds per game. The two players – who are both over 6ft 10in – have competed against each other for a starting spot, and tensions had escalated during the practice session.
"Bobby Portis is not a bad person," Paxson said. "He's a good kid. He's a competitive kid, but in this instance he made a mistake. And as we all know when you make mistakes you got to suffer the consequences. We did get counsel and advice from the league because this is really unprecedented in a practice situation. There's altercations a lot of times but the result of Niko's injuries are why we've taken the position that we have and that's where we are."
Mirotic averaged 10.8 points over his first three seasons with Chicago. A restricted free agent, he signed a two-year contract that could pay as much as $27m in September.
The Bulls are a shadow of the team that dominated the NBA during Michael Jordan's heyday, and are likely to be among the strugglers this season.