#LasVegas #shooting: Briton caught up tells of fear
Las Vegas shooting: Briton caught up tells of fear
BBC News - UK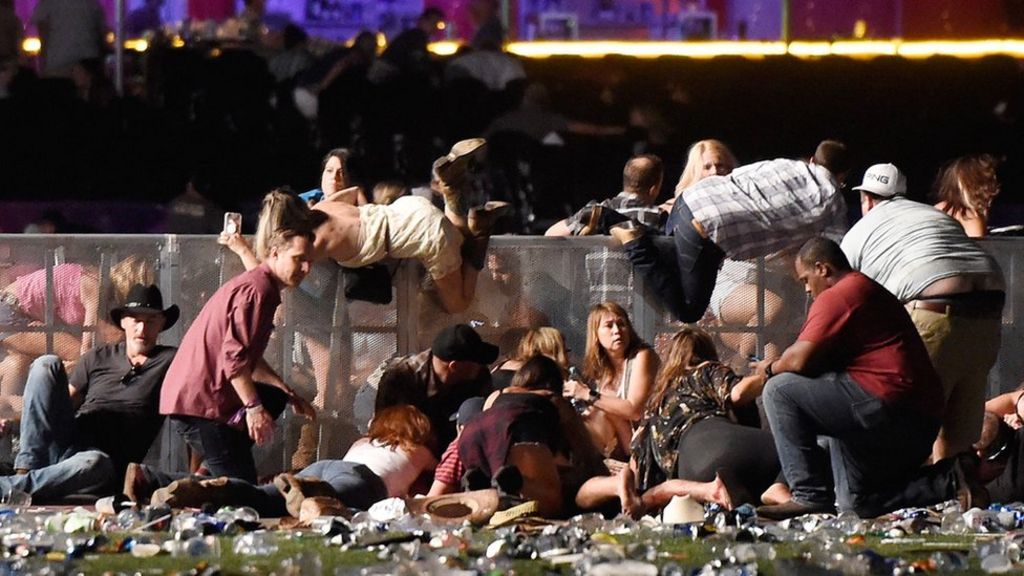 A British tourist caught up in the Las Vegas shooting has told of the "pure mayhem" he witnessed during the attack.
Ian Thorne told BBC Radio Bristol that he was still looking for three members of his holiday party, but that he was not allowed to leave his hotel.
Police have said that at least 50 people have been killed, with around 200 more injured.
Mr Thorne described his hotel as "like a ghost town" and that police would only tell them to "get back".
He said he hoped that those he was missing could not answer their phones because they were among those being held in the basement of another hotel.
UK Foreign Secretary Boris Johnson said: "I am horrified by the awful attack at a music festival in Las Vegas this morning.
"The United Kingdom stands with the American people against this indiscriminate violence. My thoughts are with all those caught up in it.
"The Foreign and Commonwealth Office is in contact with Las Vegas authorities to establish whether any British people were caught up in the attack and we are ready to help however we can. Any British people in Las Vegas should follow the instructions of local authorities."
On Twitter, Theresa May described the shooting as "appalling" and said "The UK's thoughts are with the victims and the emergency services".
Mr Thorne described the confusion at the scene. "Now we're back in our rooms [we feel safe] but it was mayhem basically, absolute mayhem really.
"No one knew what happened - all we knew was that the police were coming in and moving us back out from the cordoned-off area," he said.
"It was not until we got back looking at the local TV and there they are saying what's happened and showing the footage of it as well. It's absolutely frightening."
Original Article:
http://www.bbc.co.uk/news/uk-41472562