NYC FC's Jack Harrison making mark from St George's Park to the Bronx
NYC FC's Jack Harrison making mark from St George's Park to the Bronx
US news | The Guardian / Bob Williams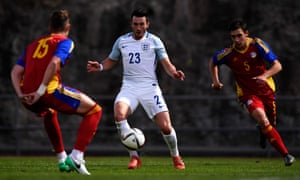 The New York City FC winger is making headlines on both sides of the pond after debuting for England's Under-21s amid his club's play-off push
The moment Jack Harrison realized that he had finally made it in his home country was not when he stepped onto the Riverside pitch for his England Under-21 debut, but when he walked past a TV screen.
"Growing up in England I watched Sky Sports all the time and one afternoon at St George's Park I walked past a TV and saw myself on it and I thought, 'That's so weird'," Harrison laughs.
The New York City FC winger made headlines on both sides of the Atlantic when he was called up by Aidy Boothroyd to make his England Under-21 debut early this month. The 20-year-old made a brief late appearance as a substitute in the Euro 2019 qualifier against Scotland before playing 70 minutes in the away victory over Andorra.
Harrison, who moved to the United States aged 14 after leaving the Manchester United academy, showed in his time on the pitch that he belonged on the international scene. And he says the whole experience has given him a huge confidence boost ahead of NYC FC's play-off push.
"It was a great experience. I'm very grateful for the opportunity," Harrison told the Guardian. "I learned a lot while I was there. With training I thought I would be behind a little but I found myself settling in a lot quicker than I expected. That was really encouraging as those guys are really talented and won the Under-20 World Cup together last year.
"I wasn't expecting to get in at all in the first game - I only had one real training session. But [Boothroyd] put me in for the last few minutes and it was really special. A lot of my family were there, which was great. As I was called up at short notice a lot of my family members couldn't make it as they already had booked trips but I had about 15 people there.
"The Andorra game wasn't the best but it was still nice to get the experience and the run-out."
Harrison's journey to England for the qualifiers was unexpectedly eventful after he missed a flight. But he hit the ground running once he arrived. "As soon as I got out of the car as St George's Park – even though it was at night - was really special as I had never been there before," he adds. "That was the moment it hit me, especially with everything leading up to it, including missing my flight.
Another thing too was when I opened my hotel door it had my name on it and an England badge - that was special. I wanted to keep it but it had already been taken down!"
Harrison, who was speaking at a NYC FC event launching the first 10 new mini-soccer pitches across the city, was able to catch up with former United academy team-mate Marcus Rashford and meet England head coach Gareth Southgate for the first time while at St George's Park. He was also quizzed in detail by his new England team-mates about life in the Big Apple.
"A lot of the other guys were asking a lot about MLS and my lifestyle - they were really intrigued," he adds. "Being a young footballer in England is a dream but for them to say the same things about New York was surprising."
As for his nascent England Under-21 career, Harrison's future looks bright. "The next [England U21] game we need to figure out the details as it may clash with a [NYC FC] play-off game. But Aidy said, 'Not only have you done well but you've proved that you belong here as a person and a player as well.' That was a nice parting message."