Trump criticises Puerto Rico, saying hurricane aid cannot go on 'for ever'
Trump criticises Puerto Rico, saying hurricane aid cannot go on 'for ever'
US news | The Guardian / Staff and agencies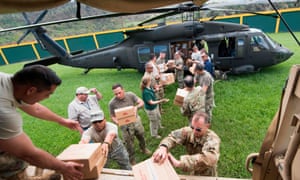 President's tweets complain of 'total lack of accountability'
'Electric and all infrastructure was disaster before hurricanes'
Donald Trump renewed his criticisms of Puerto Rico on Thursday and said the US government could not keep providing federal aid in the wake of Hurricane Maria "forever".
The president attacked the US territory in a series of tweets on Thursday.
He said there was a "total lack of accountability", attributing that thought to the governor, Ricardo Rosselló, and "electric and all infrastructure was disaster before hurricanes".
The president added: "We cannot keep FEMA, the Military & the First Responders, who have been amazing (under the most difficult circumstances) in P.R. forever!"
The House is on track to back Trump's request for billions more in disaster aid, $16bn to pay flood insurance claims and emergency funding to help the cash-strapped government of Puerto Rico stay afloat.
Thursday's hurricane aid package totals $36.5bn and follows a $15.3bn measure that passed last month. The measure sticks close to the White House request, ignoring – for now – huge demands from the powerful Florida and Texas delegations, who together pressed for some $40bn more.
Several lawmakers from hurricane-hit states said a third interim aid request is expected shortly – with a final, huge hurricane recovery and rebuilding package likely to be acted upon by the end of the year.
Hurricane Maria struck Puerto Rico on 20 September. It has killed at least 45 people, and about 85% of residents still lack electricity.
Trump has come under fire for a patronising and callous attitude to the island, and got into a high-profile spat with the capital's mayor, Carmen Yulín Cruz.