US loses jobs for first time in seven years as hurricanes buffet market
US loses jobs for first time in seven years as hurricanes buffet market
US news | The Guardian / Dominic Rushe in New York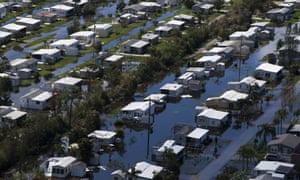 33,000 jobs lost in September, second successive disappointing month
Analyst says underlying 'job market remains sturdy and strong'
The US jobs market stalled in September, losing 33,000 jobs, as Hurricanes Harvey and Irma took their toll. It was the first time in seven years that the US monthly total had recorded a fall.
The US economy has added an average of 176,000 new jobs a month so far this year but as the Labor Department had predicted the storms, which caused fatal and catastrophic damage across Texas and Florida, slowed hiring.
But a loss in jobs was far worse than the 80,000 new jobs most US economists had expected would be created. It ends the longest stretch of uninterrupted jobs growth in US history.
Ahead of Friday's jobs report the Bureau of Labor Statistics said some 11.2 million workers lived in the affected areas, about 7.7% of the US workforce.
The unemployment rate, which was 4.4% in August, fell to 4.2%.
This is the second month of disappointing growth in the US jobs market. In August the economy added 156,000 new jobs, below the 180,000 that had been expected by economists.
On Wednesday ADP, the payrolls processor, said the private sector had added 135,000 jobs in September, sharply down from the 228,000 added in August.

"Hurricanes Harvey and Irma hurt the job market in September," said Mark Zandi, chief economist at Moody's, which helps compile the ADP report. But he added that: "Looking through the storms the job market remains sturdy and strong."
Puerto Rico, the US territory also devastated by the hurricanes, is not counted in the jobs report.